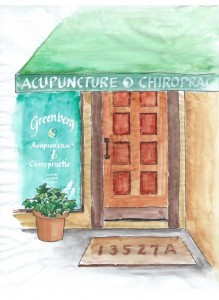 5 Healing Methods: Chiropractic, Acupuncture, Deep Muscle Therapy/Acupressure, Chinese Medicine/Herbs Normally. a patient would have to make separate trips to benefit from all of these therapies. With the combination, our patients are treated Holistically and experience quicker healing time in a calm environment.
One Doctor   5 healing methods    Over 25 years Experience
Dr. Greenberg is state and nationally certified, and board licensed in Chiropractic, Acupuncture, Chinese Herbology  and Traditional Chinese Medicine. She was the first woman admitted to Delta Tau Alpha, the Chiropractic Honor Fraternity, and she graduated Summa Cum Laude from Emperor's College of Oriental Medicine.  Both of her parents were Chiropractors, and Holistic practitioners, so she has been associated with natural healing all of her life.
Some of the conditions that respond well to these treatment methods are:
Anxiety/Stress Reduction
Arthritis/Joint Problems
Back pain/ Sciatica
Headaches/TMJ/Allergies/Bells Palsy
PMS/Menopause Regulation
Energy/Qi Balancing
Sports Injuries/Tendonitis (wrist, elbow,knee, ankle)
March 10th,2015
Acupuncture
,
Chiropractic
|
Comments Off

on Dr. Geri Greenberg: She provides 5 Healing Methods in One office