Recipes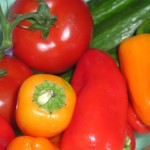 Easy Zuccini/tomato dish:  Steam 2-3 zuccinis then put in a sauce pan, add 1 can Muir organic stewed tomatoes and 1/3 bottle of  Bruschetta sauce (TJoe's)  top with sprinkle of parmesian cheese and or goat cheese.  Can also cook zuccini, sauce and tomatoes in one pan,  with a bit of red wine.
Easy fruit cobbler:  Use a pyrex baking dish. Cut up 2-3 apples, sprinkle with 1-2 teasp. of cinnamon and  the juice of 1/2  of a lemon . Cover with 1/2  to one bag of trader joes frozen mixed berries.  Bake covered with foil 40 min.
Another option: Steam apples in a vege steamer with cinnamon sprinkled on top.  Then put in pyrex, put  TJ's frozen berries on top while apples still hot.  Cover with foil til berries defrost.
Optional can sprinkle one packet of  Tjoes'   quick cooking, maple cinnamon oatmeal.   Optional- can put some of Tjoes' lowfat greek yogurt as a topping.
Greek cucumber/tomato salad:  Chop and peel 3-4 Persian cucumbers ,  1 box of  grape tomatoes cut in half ,    10-15 Kalamata olives ( in glass jar)  cut up,  1/3 cup crumbled herb feta.  Salad dressing can be lemon and olive oil or refrigerated  TJ caesar dressing.   All of the above ingredients are from Trader Joes.
Optional ingredients: 1/2 to 1 chopped fresh red bell pepper,  3 teasp of  chopped red onion,  2 teasp chopped fresh mint or 1/2 teasp dry oregano. 1 bag baby spring greens.
Cranberry walnut goat cheese spring salad:   1 medium jicama  peeled and chopped into small pieces, 1 red bell pepper chopped, 1/4 red onion chopped, 1 bag of spring salad mix,  1/2 cup dried cranberries, 1/2 cup walnuts -chopped into smaller pieces ,  1/2 cup of crumbled goat cheese.  Salad dressing is Annies' raspberry vinagrette from whole foods,  Tjoe also has a version.   (lots of red and green so great to make for holidays)
These two salads are great for taking to a gathering, if so pack the ingredients in separate baggies and mix once you get there, in case there may be someone that can't eat olives or nuts etc.
Yam and fruit casserole:  4 medium yams, cut into small pieces and steamed,  or baked and peeled and cut into medium pieces. Then sprinkle lightly with curry powder (4 tsp) Layer yams with a layer of cut up fruit ( TJoes- precut fruit cup pack-4) or 16 oz canof peaches, pears, pineapple, apricots (without the liquid)  Bake 350 1 hour serves 8.
Bob Green cheesy swiss chard or spinach: 3 cups fresh swiss chard or spinach, toss with 1 oz shredded low fat low sodium cheddar cheese, add 2 tsp olive oil, 2 tab balsalmic vinegar, 1 tsp sesame seeds. Bake under broiler for 2 min
Dr Oz energy balls:     Eat 1-2 day before workout                                                           1/2 cup peanut butter, 1 tab honey or agave, 11/2 cups crispy rice cereal or flax meal, 1/2 cup raisins, 1/4 cup dark choc chips   Mix and roll into balls, refrigerate 1 hour